The following are conceptual drawings of WPHA. This is how I believe it will be when God raises it up to its full potential.

The numerous offices will be for the staff members who are involved in the various "spokes" of the "wheel" that represents WPHA Ministries: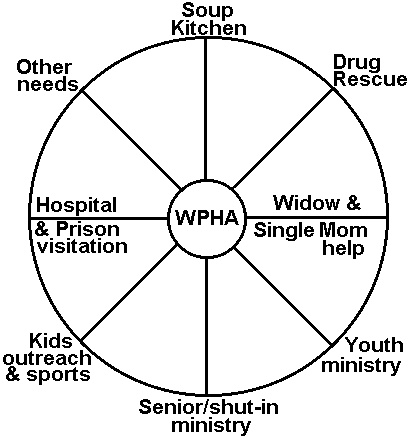 This "Wheel" is only a very simplified diagram of what, I truly believe, WPHA will be when God has raised it up to the fullness of the Vision He placed within my heart. I believe that there will be many more outreach ministries than just these eight.
When WPHA does begin reaching out to help those in need,
we will be using THIS MODEL (compassion.com)
---
The intention behind the station design in the following drawings is to maximize efficiency and productivity of the employees by providing a workplace that is both comfortable and efficient. Our goal is to use evey dollar and every resource to the fullest extent possible to carry out Christ's Great Commission in Fairfield County and beyond!

I've done a considerable amount of "tweaking" to make these drawings even more realistic, taking into account standard building layouts, plumbing, etc. (Note: The 2'nd floor drawings are yet to be revised to V3.0.)

Since these are only concept drawings, the real WPHA facility may bear little to no resemblance to them. A facility of this design could cost between $600,000 ~ $700,000. The radio station, itself, $millions.

These will not be "posh" facilities, they will be functional. Everyone will have what they need to do their BEST work for the Lord.